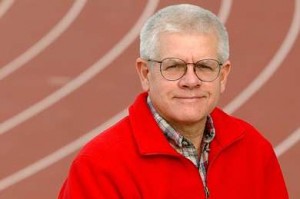 The first coach honored in the Dual Meet Hall of Fame was former Washington State men's coach John Chaplin, inducted last May. The second is Gary Pepin, the current men's and women's head coach at Nebraska. Click on over to see his career record.
The winter honorees in my Dual Meet Hall of Fame come from the Midwest and Northeast, and Pepin is the only coach of a team from this part of the country to ever win the Track and Field News Dual Meet National Championship. Three times his Nebraska Cornhuskers won this honor, in 1989, 1991 and 1992.
Pepin has led the Huskers' women's team since 1981 and the men's team since 1984. His women's teams racked up thirteen straight top-five Dual Meet Rankings, from 1983 to the demise of the rankings in 1995, including those three national titles. His men's teams racked up seven straight top-ten Dual Meet Rankings. From 2000 to present (the only string of years for which data is easily accessible), Pepin's men's teams rolled to a 46-3 record in dual meets, and the women's record is 36-6. Overall, this is a .901 winning percentage.
It's not just the wins and the rankings, though. It's the attitude. For Pepin, it's all about the team. "We have always been team oriented," he said via e-mail. "I haven't ever thought of track and field in any other manner."
Ann Gaffigan, the woman responsible for the existence of this website and to whom I am greatly indebted, was a champion steeplechaser for Pepin's Huskers. "Pepin has also successfully established a culture of high performance at Nebraska," she said. "If you walk through the track & field hall of fame or look at the banners hanging in our indoor track of all of our Olympians and national champs, you feel it. It is also felt as an athlete on the team."
Regarding dual meets, Pepin says "they [are] extremely fun and competitive". Nebraska takes pride in its dual meet championships, as evidenced by their commemorative banners hanging in the Devaney Center, Nebraska's massive indoor track facility. In an interview with Randy York's N-Sider, Pepin said among his "all-time track and field highlights was taking our men's and women's teams to Eugene for a dual and beating Oregon twice in the same day." If that's a memorable career highlight, then he definitely belongs in the Dual Meet Hall of Fame.